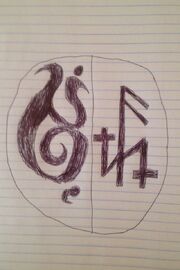 SeekingTheFacts is an upcoming ARG set to be released summer 2015. As of now, not much is known, it has been in development for quite some time. It has been revealed that the Rake and several proxies would be included as well, Fussy has stated that he would also enjoy having several crossovers.
The announcement made by Fussy_Nielsen on his youtube shows that it tells the story of a young teen named John with several mental disorders, so he starts a video series as a type of therapy.He goes on walks, and talks about his feelings to the camera, but eventually, he encounters the Slender man.
Characters
Edit
John: A child of about 14 years old with several mental disorders.
The Slender Man: A vicious stalker In a long, black suit and a pale, blank face.
Seekers: A small group of 11 members founded by John and most of his friends, who start to deal with the same issues as him, that primarily focuses on fighting Slenderman, finding out his history and who he is, and making sure no one suffers the way they did.
Ad blocker interference detected!
Wikia is a free-to-use site that makes money from advertising. We have a modified experience for viewers using ad blockers

Wikia is not accessible if you've made further modifications. Remove the custom ad blocker rule(s) and the page will load as expected.