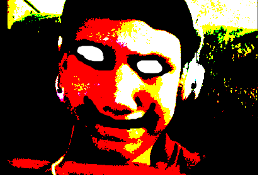 Sam Manifesto is a slender man-based ARE, showing the story of Sam and Troy. It can be watched here.
Sam and Troy create a gaming channel called "true manifesto" After 2 weeks, Troy calls his friend and says that he decides to quit, because of personal reasons. Sam decides to quit too, but kept the channel alive.
Between 14-20th of April, Sam receives a box, containing a SD card with videos. One of the them shows Sam's old house, being recorded. This video was dated 7 months ago.
On 26th of April, a video shows up on the channel, showing warnings, like "don't watch the other videos" or "do you like being observed?"
Ad blocker interference detected!
Wikia is a free-to-use site that makes money from advertising. We have a modified experience for viewers using ad blockers

Wikia is not accessible if you've made further modifications. Remove the custom ad blocker rule(s) and the page will load as expected.