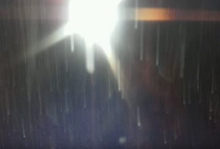 The Red Creature Is An Antagonist Seen In Doomed For Eternity. The Red Creature Has Not Properly Seen (As Of Yet) As It Has Only Appeared In Call #2 Where The Girl Received A Phone Through The Mail Containing That Picture Along With Many. Originally, The Creature Was Supposed To Be A Wendigo, But This Idea Was Scrapped.
Appearance
Edit
That Creature Has Not Physically Been Seen In Any Doomed For Eternity Episodes Yet, However It Is Slightly Seen Depicting It Having Red Skin And Decayed Eyes. In Call #2 It Is Described Looking Like A Skeleton And Very Tall. It Is Smaller Than The Director And Has Claw Like Hands. It Also Apparently Acts Like The Rake
The Image
Edit
In One Of The Pictures Taken Off The Phone The Creature Can Be Seen Staring At The Phone Holder Outside. The Holder Appears To Be Hiding Under Something But Has Been Found By The Creature, Also, It Looks Like It Is Raining As Seen By The Small Lines.
Appearances
Edit
Call #2 - Appears In An Image