GreySkies (abbreviated GS) is a Slender Man based YouTube series/ARE. The series follows an unnamed man who is looking through tapes from his old college friend Darren Steene. Audio Distortion and Visual Distortion are present in the first group of tapes and continue to the point that a Man has been seen in several tapes. The Channel first appeared in March 2014 and currently has 10 Iterations and one .5 Iteration. The Channel, TheProphteer Channel.
Characters
Edit
The Uploader (Possibly named Troy): A Film student and uploader who is searching through a bunch of old tapes from his old friends cancelled film project.
Darren Steene: Film Student and Director, He's been seen to encounter the tall man appearing in several tapes (In some he's unaware that he's present).
Tim: Assistant Camera man and Editing tech for Darren's Film, Is seen to have encountered the tall man and is also seen with signs of the sickness.
ThePropheteer: A Sidechannel, Posts comments on GS's videos to a link to a cryptic and disturbing clip, Its believed that ThePropheteer has been breaking into the uploader's house.
Influences
Edit
The Series is heavily influenced by MarbleHornets and MLAndersen0. Other influences are said to be Slender: The Arrival, WhisperedFaith and Knock-Knock. It takes a similar direction to MarbleHornets but its also got a hidden and deep backstory that be more present in the later tapes. The Videos themselves have been called "Iterations".
The First video was the Introduction stating that in 2004, Darren Steene began working on a Student Title for class called GreySkies, During Mid 2004, The production inevitably halted then was cancelled, when the uploader asked what was going to happen with the tapes. Darren simply stated "Burn them", After some convincing, The Uploader was able to get the tapes from him but to never mention them or the film to him...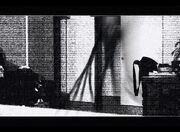 Darren finally left. One other person who was involved with the film also stayed in town (Believed to be Tim).
During the First couple of videos, There was no threatening presence but distortion was present. As the uploads progressed, the distortion became more common and the tall man began to appear more threatening. After the first three uploads, ThePropheteer began replying with his videos and began harassing the uploader.
Currently more tapes have been discovered in the uploader's desk and is in the process of uploading them.
Ad blocker interference detected!
Wikia is a free-to-use site that makes money from advertising. We have a modified experience for viewers using ad blockers

Wikia is not accessible if you've made further modifications. Remove the custom ad blocker rule(s) and the page will load as expected.