A Slenderman Musical is a 3 act musical story album released by Paul Shapera on Oct 20, 2015. It tells the story of two characters, Timothy and Zoe whose lives have each been profoundly affected by the Slenderman, and their subsequent journey through multiple layers of reality.
Other characters include Samuel and Jordan, both of whom reside at the Decadent Abbey, a place on the outskirts of our reality, where the 2nd act takes place.
It is available to listen to an Bandcamp at https://mochalab.bandcamp.com/album/a-slenderman-musical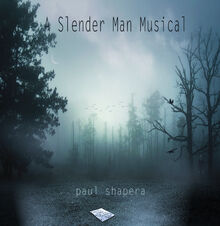 Ad blocker interference detected!
Wikia is a free-to-use site that makes money from advertising. We have a modified experience for viewers using ad blockers

Wikia is not accessible if you've made further modifications. Remove the custom ad blocker rule(s) and the page will load as expected.